Crypto.com and Crypto.com Visa Card Review 2021
Crypto.com (formally known as Monaco) is an all-in-one crypto and financial ecosystem built into a single app. In late 2019 Crypto.com released the Crypto.com Visa Card in Australia which offers some pretty cool features like crypto cash back on purchases and free Netflix. Their platform currently has over 5 million global users and their team are driven to accelerate the world's transition to cryptocurrency.
The current offering includes a VISA Platinum debit card and an all-in-one app which consists of crypto lending, borrowing and an exchange. Users of the platform receive benefits for staking CRO tokens such as 100% rebate on Spotify, Netflix and Amazon Prime as well as 10% cashback on Expedia and AirBnb and many more perks. In a recent AMA, Crypto.com CEO Kris Marszalek mentioned that Crypto.com Obsidian (Black) card holders would even have access to a private jet service.
Signup today and use code ndychtxabg to get a bonus $25 when you order your Crypto.com Visa metal debit card.
The Cards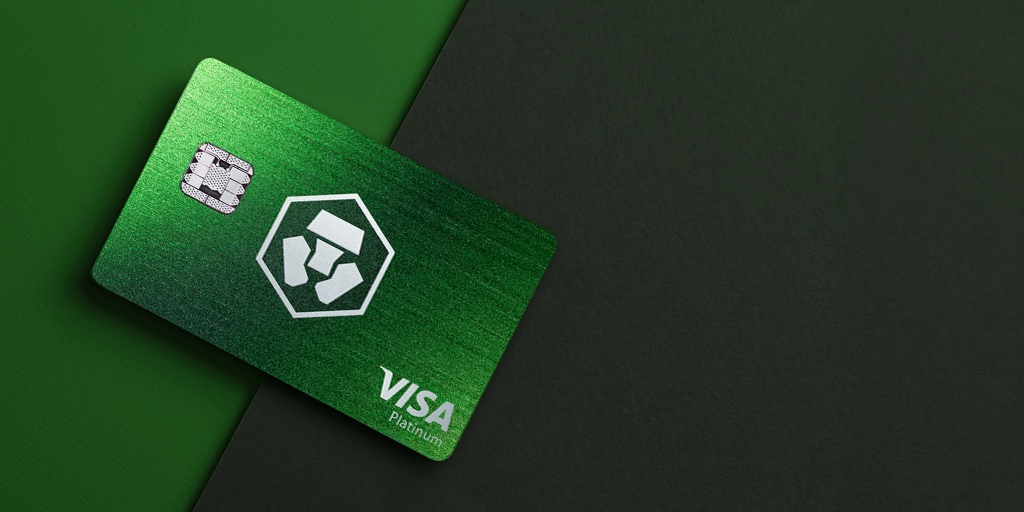 The Crypto.com Visa cards come with various benefits depending on the amount of CRO token you stake. Cash back rewards on all purchases using the card range from 1% (on the free card) to 8% on the Black. Some of the higher tier cards even offer a 100% rebate on Shopify and Netflix as well as free airport lounge access.
Topping up the card can be done with another debit / credit card, bank transfer or by converting crypto from your wallet. This is what really sets the card apart from your standard debit card. Imagine being able to convert some Bitcoin into local currency and spend it immediately at any shop. Alternatively you can instantly withdraw the converted funds at any ATM worldwide.
We road tested the Jade Green card which is made of metal and has a great premium feel. It can be used everywhere Visa is accepted and had no issues using it at every online and physical retailer we threw at it. The 3% cashback was deposited into the CRO wallet, ready for immediate use.
Earn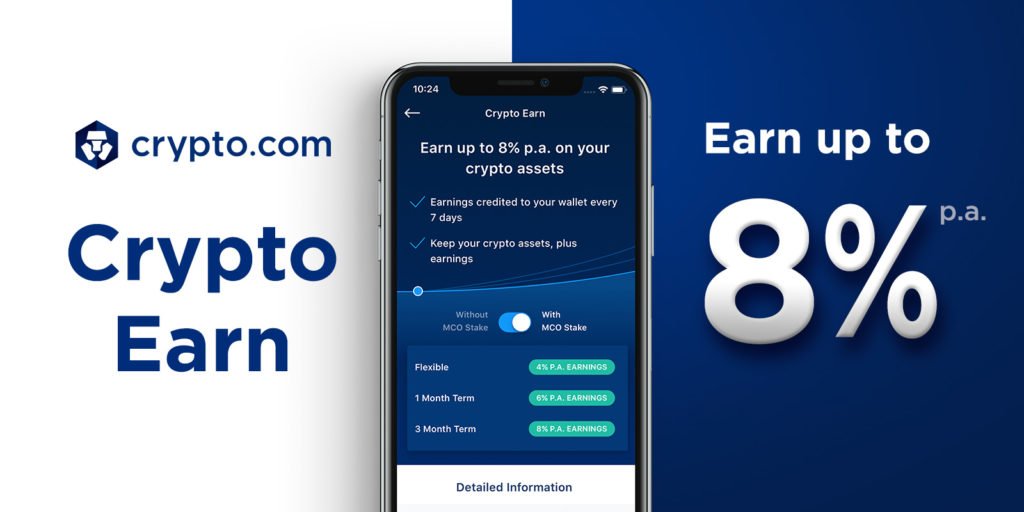 The lending side of the app allows you to lend out your crypto and receive some pretty impressing interest rate returns. Currently the 3 month term rates are 6.5%pa for Bitcoin, 5.5%pa for ETH and a whopping 12%pa for most stable coins.
The earn process takes as little as a couple of minutes and interest payments are made directly into your wallet on a weekly basis. One of the great things about the interest payments is that you are paid in the same cryptocurrency that you lend. If that particular cryptocurrency increases in value during that term, so will your interest payments.
Credit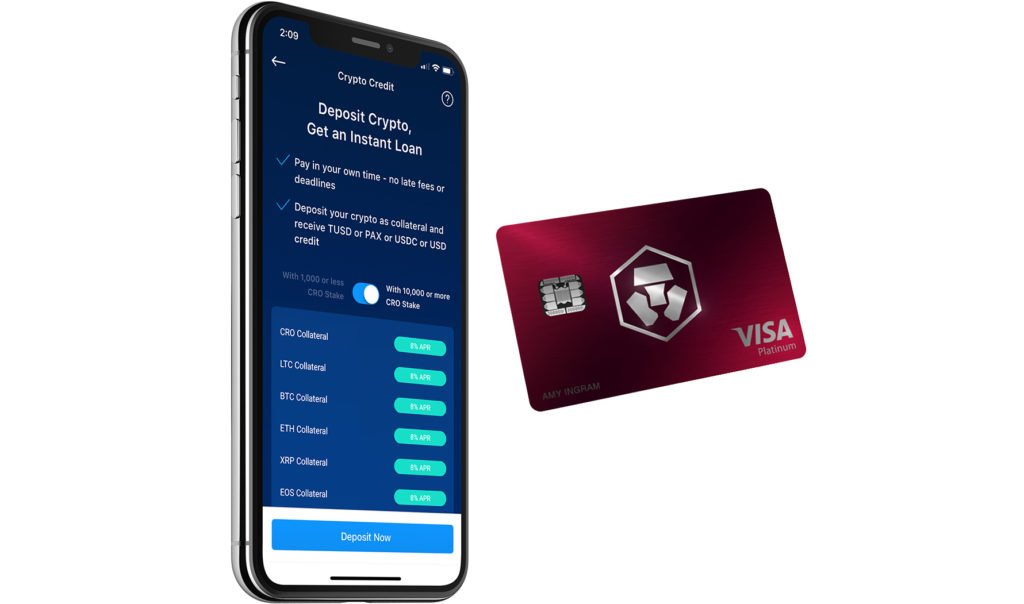 On the flip-side of the lending platform is the credit and borrowing service. The Crypto.com credit service allows you to borrow 50% of your locked-in crypto as a collateral based loan at 8% APR (based on staking CRO).
Taking out credit against your existing crypto allows you to make purchases using the same value without creating a taxable event by selling the cryptocurrency. For example if you owned 1 Bitcoin but you needed some cash to buy a car before your next paycheck, you could borrow AU$6,300 (rate at time of writing) against that 1 Bitcoin with only 8% APR.
Pay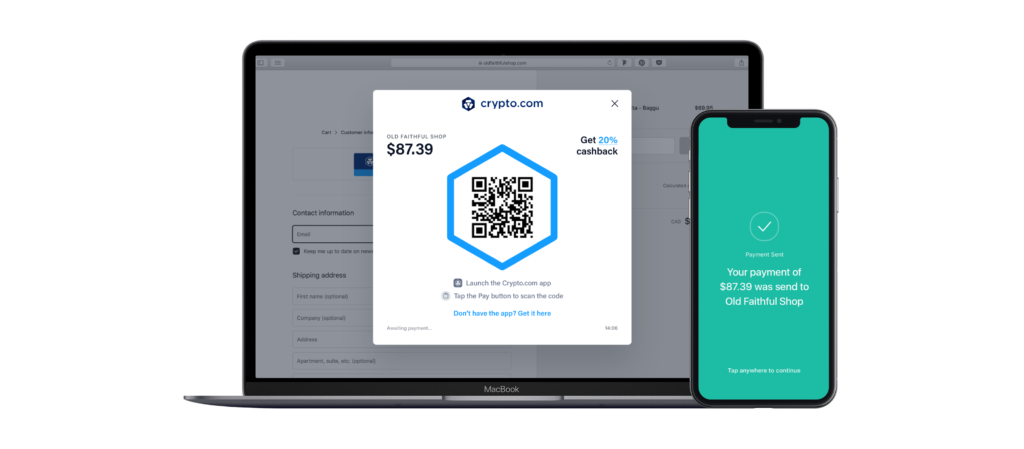 'Pay' is Crypto.com's payment gateway solution for online merchants. It allows customers to quickly and easily pay at the checkout while offering very low or no fees to the end transaction. Pay is also great for customers as it allows them to get a higher rate of cashback on their Crypto.com account than they would using the Crypto.com Visa card.
Conclusion
Overall we were really impressed with the entire Crypto.com ecosystem and how much the app has to offer. The Jade Green Crypto.com Visa card offers you 3% cashback on every purchase along with full rebates on Netflix, Spotify and unlimited airport lounge access. For those types of perks with a traditional credit card you would be expected to pay hundreds of dollars in annual fees.
Having a card that works in a similar way to existing debit cards on the market is a great step forward for cryptocurrency adoption for the general consumer. The future looks bright for Crypto.com and their customers as they expand their service offering and card perks.
Get $25 Free Signup Bonus
Click here and use code ndychtxabg to get a bonus $25 when you order your Crypto.com Visa metal debit card.
Please note: This information in this blog post is not financial advice. We recommend that you do your own research before investing any money.